[EN] Innovation Hub
Impact Story
Impact Story 8: Changing Mindsets, Creating Jobs
In this series, we highlight the Innovation Impact Stories of our members. They share their projects with a focus on new, innovative ways to make an impact and accelerate change to a better world!
15 september 2023
Changing Mindsets, Creating Jobs:
Boosting entrepreneurship in the Kurdistan region of Iraq 

 
By CINOP & Cordaid Iraq
Imagine this: You are a young man or woman living in the Kurdistan region of Iraq. You finished your education a year ago. And since then, you have been eagerly looking for a job. But that is not an easy task, and you know that. The public sector -which is the main employer in the region- is unable to absorb all the young graduates that enter the labour market each year. You start to worry about your future. What can you do to improve your chances of finding a job?
This is a common scenario in the Kurdistan region of Iraq
Here, the years of socioeconomic disruption and socialist policies have resulted in a job market that is heavily reliant on the public sector. However, with the changing economic landscape, it has become essential to stimulate private sector development and encourage young people to think and act more entrepreneurially.   
Recognising this need, CINOP, in cooperation with Cordaid Iraq, launched the "Boost your Entrepreneurship Aspirations" project. To strengthen entrepreneurial training opportunities within the nine vocational training centres (VTCs) throughout the Kurdistan region of Iraq. These VTCs are critical institutions providing skills training to unemployed youth and helping them acquire skills relevant to the workforce.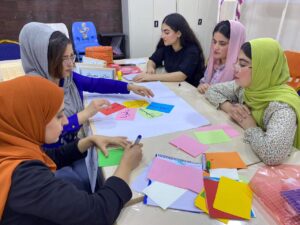 Job creation and developed entrepreneurship
Traditionally, the training centres focused on preparing students for jobs in the public sector. However, there are a limited number of positions available. This is where the developed entrepreneurship course comes in. The course provides a new perspective on job creation and all the options young people have in generating an income. The program creates a safe environment for young people to take charge of their careers and come up with their own business ideas. This approach focuses on creating employment opportunities rather than just searching for them. The course aligns with Iraq's Technical and Vocational Qualifications Framework, which was adopted in 2020. This framework ensures that all actors in Iraq recognise TVET qualifications and that students receive valuable diplomas.
Entrepreneurial mindset and practical tools
The course gives young people an entrepreneurial mindset and the practical tools they need to start their own businesses. They learn about business management, marketing and financial planning basics. And they practice soft skills such as creativity, leadership, communication, and adaptability. Every week, a successful male or female entrepreneur sits with the students to share his or her start-up challenges and personal stories, inspiring the young learners and showing them they can succeed in this field. The students are given the opportunity to work on real-life case studies and cooperate in project-based learning to gain hands-on experience.   
This project not only moves beyond traditional classroom learning, but it is also designed to be accessible to everyone and bring together students from different backgrounds, including women, refugees, and IDPs, to learn and work towards a common goal. This diversity creates a rich learning environment with multiple experiences and perspectives. It helps promote social cohesion and inclusive entrepreneurship, which is essential for building a more equal and just society.