[EN] Innovation Hub
Nieuws
Recap | 10th Edition Partos Innovation Festival 2023!
We greatly appreciate your presence at the tenth edition of the Partos Innovation Festival! Together with international development professionals, researchers, students, changemakers, and innovators, we celebrated a decade of innovative development cooperation. Through the launch of the Impact Stories Magazine, an enlightening Keynote Speech, a thought-provoking Panel Discussion, and a heartfelt check-in with Previous Award Winners, we embarked on a journey down memory lane, reflecting on ten years of innovation and looking forward to the promising future ahead. On top of that, we learned, danced and sang together. Let's savour those festival vibes once more! On this page, you'll find a short recap of all the sessions, the after-movie, and a link to the photos and videos that were taken during the day.
24 oktober 2023
Watch the after-movie!
🎬 Thanks to Marije Dunning and Leandra Arjona-Jacobi for shooting the after-movie!
Opening by host Sahar Shirzad and Liana Hoornweg
Sahar and Liana opened the Festival. Do you want to know what they had to say? You hear it here!
Keynote 'Unleashing the Power of Innovation for Our World in Transformation' by Dr. Anneloes Smitsman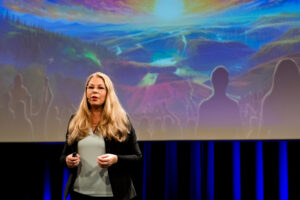 Futurist, systems scientist and founder of EARTHwise Centre, dr. Anneloes Smitsman guided us through an immersive journey to the root causes of the systemic barriers that are undermining the necessary progress and collaboration for securing a thrivable world and future within safe planetary boundaries. Through a future visioning, Anneloes helped us unleash our personal and collective power of innovation, and reflect on what this means within the larger context of our evolutionary development as a species.
To be in the room with so much diversity and yet all of us are focused again on the human heart, the human potential, our common human story. There is so much more that unites us than divides us; the strong commitment to really working together for a more beautiful world! – Dr. Anneloes Smitsman
Impact Stories & Launch Magazine
We celebrated the launch of the Innovation Impact Stories Magazine, featuring 44 stories by our members, highlighting their innovative and influential work to make the world a better place. Take a look and read the stories here!
On stage, Julia Scholten from Amref Flying Doctors delivered an inspiring presentation on their dedicated efforts to track the girls in their communities and reduce the rates of female genital mutilation. Next, Rutger Groothuis from the Netherlands Institute for Multiparty Democracy demonstrated how their organisation adjusted to the new political situation in Colombia and refocused on local democratisation processes. At last, David Gatare of Community Initiatives to Promote Peace (CIPP) and Ibukunoluwa Sanni of African Radio Drama Association (ARDA), partner organisations of Mercy Corps, joined us virtually to share an inspiring example of combatting fake news through the power of great music!
Watch the stories live on stage!
Go to the Impact Stories Magazine
Dance Performance by Luana van Eekeren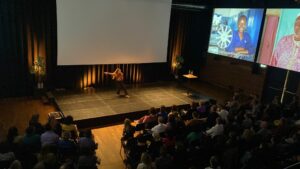 The Partos Innovation Festival wouldn't be complete without a captivating cultural dance performance. Dancer Luana van Eekeren delivered an ethereal performance that left the audience in awe.
Panel Discussion 'Innovating Approaches for an Inclusive & Sustainable World'
It's about joining hands and amplifying voices, especially for those who can't speak out. Dissent is the cornerstone of Democracy. – Peter-Derrek Hof
In this thought-provoking discussion, Gerald Abila (BarefootLaw), Saranel Benjamin (Mama Cash), Tessa Wernink (Undercover Activism), dr. Anneloes Smitsman (EARTHwise) and Peter-Derrek Hof (Ambassador Women's Rights and Gender Equality and Director Social Development) shared their perspectives on innovative strategies to adapt to the interconnected challenges of this era. Shifting from individual and organisational responsibilities to explore how cross-sector collaboration propels solutions, the discussion was a dynamic exchange incorporating perspectives from key sectors, including social enterprises/corporations, NGOs, and government.
Activism is love made visible. – Tessa Wernink
Previous Award Winners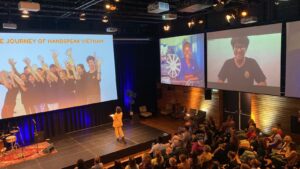 As we embarked on a journey down memory lane, reflecting on a decade of the Partos Innovation Festival, the much-anticipated check-in with our previous Innovation, NowUs!, and Collaborative Innovations Award winners took centre stage. What impact has winning these awards had on their work? Well, let's just say, it's been a whole lot of impact and a ton of innovation!
Nguyễn Trần Thủy Tiên from Pard Vietnam (formerly known as HandSpeak Vietnam) shared their story of remarkable regional growth and strides toward integrating the deaf community in Vietnam. Juliana Catania from Innovation for Change demonstrated how the network has grown and offered training for civil society globally. Habiba Mohamed from Wadadia shared her organisation's impact on destigmatizing fistula survivors and the difference the new clinic has made in their work. Lastly, Gijs Verbraak from ActionAid demonstrated the necessity of eradicating tax evasion in a powerful presentation.
Watch the stories of the Award Winners here
Spoken Word Highlights – Justin Samgar
Time for more performative art! In a whirlwind of spoken word prowess, Justin Samgar skilfully weaved together the day's highlights. Taking special note that even in these challenging times, the festival participants showed an abundant spirit of goodwill, collaboration, and a shared commitment to positive change.
So every small step and form of action that you take, can also make a world of difference. – Justin Samgar
Closing music performance by Maringo Bérénos with band

After a program filled with inspiring stories, presentations and discussions, Maringo Bérénos and his band delivered a captivating closing performance. Through his original compositions drawn from diverse global influences, Maringo's music serves as a universal language that celebrates diversity and connection. This liberating journey towards togetherness and human empowerment concluded with the audience dancing and singing along, a truly fitting finale for the festival!
Thank you for being there!