Communicatie & Beeldvorming
Nieuws
Blog Gigi Ong-Alok – Why I nominated myself to speak on Decolonising International Development
Dear reader, by now, you have opened this blog and will start scanning the first lines to see if it sticks. I probably caught your attention with the magical word 'decolonisation.' If so, you might give it another two scrolls before expanding your mind to the vast swarm of information buzzing for your attention. But this blog was never intended for your eyes, perhaps not even your ears. It was written the night before a long-anticipated event I organised as a ritual to give thanks, but mainly to shake off thoughts, lived experiences and emotions that I (un)willingly carry with me in my attempts to decolonise international development. Are you still here?
17 augustus 2023
Opening Speech of the Partos Decolonisation Symposium
4th of July, Ru Paré Amsterdam 
My name is Gigi Pasco Ong-Alok, Innovation facilitator at Partos, and I nominated myself to do this introductory talk today. Not because I am a selfless person who likes to get all the attention, but because I actually feel personally entitled to speak on the matter that we are about to discuss today: decolonisation of International Development Cooperation.  
3 days ago, the 1st of July, was a historic day for me and for all of us. Keti Koti, 'The chain is broken' 150 years of commemorating and celebrating the formal abolishment of slavery in formerly Dutch colonized territories. Being the son of a first generation of Surinamese parents who migrated to the Netherlands, with both Afro-Surinamese, Chinese and Portuguese Jewish ancestry, I am a product of coloniality. And hence, I stand here for those who stood before me in my Pangi that was crafted and gifted in Saamaka maroon territory in Suriname, a band collar shirt that reminds me of Chinese garments, and sneakers because they also passed on that 'drip'.  
It is, therefore, no surprise that my identity is inextricably linked to my experiences and motivation to work in this sector. Sometimes I thrive, sometimes, I suffer. In my work, I constantly get reminded of the need to decolonise through examples of events that leave you with a feeling of powerlessness or, like today, with the power to use your voice. 
I would like to share three personal examples of such moments that left me with a colonial aftertaste & appetite for action. 
Clinging to the past
One of these moments was last year when I visited the exhibition "Facing Blackness" in The Black Archives in Amsterdam, a BIPOC-led institution aimed at fostering conversations and archiving black literature and other overlooked histories. The exhibition showed how hierarchies in race were created and how being black became a racialised identity. I was struck – because it showed the same instruments that are used today by NGOs and charities in development communication. The same racialised and colonial imagery we are addressing in our inclusive communication workstream is an almost one-to-one copy of these missionary aid collections that date back to the colonial era.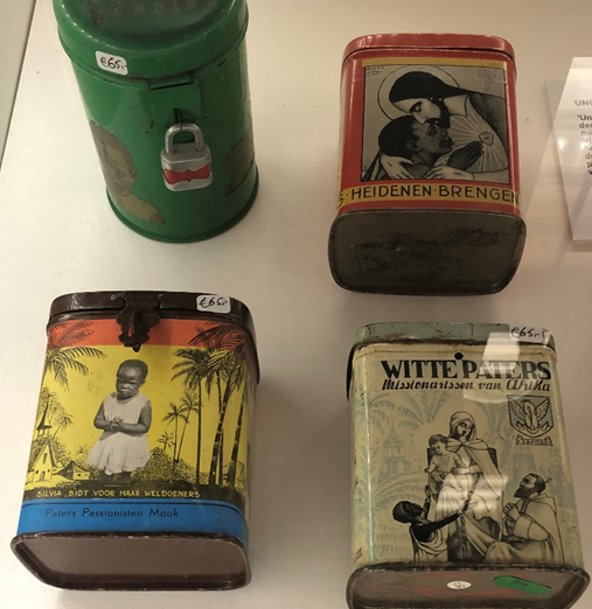 Photo made by Gigi Ong-Alok from the collection of the exhibition "Facing Blackness" in The Black Archives. 
Self-censorship
We often filter ourselves with the fear that the message becomes too dark or negative. For instance, I'm in a battle with myself, carefully calculating the risks and merits of speaking up on racial justice, decolonisation or gender inclusion within a predominantly white sector and white leadership. Even for this event, I had internal discussions with the team about the tone of the event. 'What if the visitors will leave feeling down, what if we are too critical? We also need to inspire and end on a positive note?' Let's analyse the rationale. Will institutionalized racism and white saviorism just cease to exist if we stop talking about it? This is not a relevant question because the message needs to be accessible. But by whose norms? How do you think it makes you feel when you are constantly bending around reality, turning a blind eye in the face of confrontation? These are the dynamics we reproduce, and we need to be open and frank about it if we want to change it.  
The reality is that people, and specifically many Black, indigenous & people of colour, womxn and gender-diverse people, are still harmed by colonial practices. The same people are often the ones that stick their heads out to unveil injustices or leading organisational efforts for more equitable inclusive & diverse workspaces. Let's stop filtering ourselves. And to whom it may concern, let's acknowledge this double-edge reality, by reducing the suffering, so we can collectively thrive.   
 "I'm in a battle with myself, carefully calculating the risks and merits of speaking up on racial justice, decolonization or gender inclusion within a predominantly white sector and white leadership." 
Finally, our actions today
We can only take accountability for past & current wrongdoings by taking action today. I hope we can surpass the inertia and awkwardness and give concrete meaning to the word decolonisation. I spent the past week reflecting on how I operationalised this in my work and got to this stage: For me, decolonisation implies identifying and transforming oppressive and exploitative components of a system that are closely linked to the ongoing legacy of colonialism with the aim of creating justice and liberation with and for those affected. 
In my observation, along with plenty of other accredited resources*, this is a systemic issue asking for systemic solutions. As a sector, we have recognised that power in decision-making, funding & partnerships, language, our hiring practices, our gender lens and priorities in climate action are still stained with colonial structures.  
Already a while ago, I read the thought-provoking article "Make Decolonisation about Decolonisation again" from decolonial thinker Max de Ploeg (Aralez) which asks 'How do we ensure that we are not approaching decolonisation from a Eurocentric, Western lens?'.  Spot on. How do we ensure that our conversations and actions of today are not working against our efforts? Have we decolonised our decolonisation practice?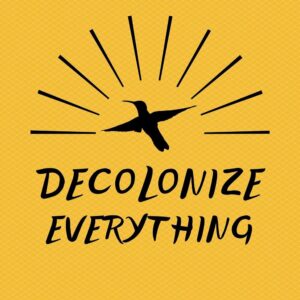 To answer this question, we invite and challenge you today to reflect inwards and deeply interrogate the structures we created and how we manage them, and who is currently managing them. What sustains colonial injustices? What avenues of change can we fortify, and what can the sector do to accelerate decolonisation processes in a way that is structural? 
Today we will focus on three of our efforts that relate to an ongoing exploration of how Partos is aiming to decolonise the sector; climate justice, inclusive communication & Diversity, Equity & Inclusion. With these examples, we also focus on three important elements of our work; How decolonial practice can be operationalised in our Climate Justice projects/programs, how we can decolonise our language by constructing a lexicon with inclusive guidelines and what we can do to identify exclusionary patterns within our organisations and mindsets. We actually have a fourth pillar of work: our Shift The Power Lab 2.0, where we host 6 different prototypes and actions that aim to shift the power in our partnerships and ways of working.  
I am proud of the efforts of our team and similar initiatives around us. We are trying, but we are critically reflecting and adapting along the way. And I applaud the fact that you are here; congratulations on your (first) baby steps. Let us start.  
P.S.
This day I felt entitled to speak and share my views. My words have found a new residence. Maybe it has triggered some discomfort, and I hope it will. Because, especially in discomfort, there is truth. I'd like to end with an excerpt from the artist and brother: 
"Toch vind ik plekken waar mijn dissonantie klinkt als harmonie  // yet I find places where my dissonance sounds like harmony"  Maringo Berenos – Laat me zeggen.